Heavy Duty Tree Planting Augers. A man tool that women can use too.
A tree auger that's serious about its job. A planting auger that continues to penetrate even in the hardest clay and lasts for hundreds if not thousands of holes. Too much to ask? We don't think so.
Our 28 inch length heavy duty planting augers are designed for durability and maximum performance. Super tough high speed steel drilling nose combined with hard, cast steel dual cutter means hard ground doesn't stand a chance.
The tree auger's heavy duty steel construction means more uses for this versatile digger: young tree or tree sapling planting, bulb and flower planting, planting decorative grasses or shrubs, and post hole digging.
You must supply your own drill to use with the augers. The tree planting auger requires a gas powered drill like Stihl or a corded, heavy duty, 1/2 inch T-handle style straight drill with at least 7 amps to operate successfully. Your drill should feature a T-handle that screws into the side for easier handling. Pistol grip style drills will not power this auger. To see a chart of compatible drills click here.
It is important to make sure your drill is compatible with the tree planting auger. We welcome any questions about your drill compatibility or applications.
If you do not have a drill but would like to purchase one that would work with our augers, contact our office.
TIP: Choose a 5.75'' diameter auger for installing 4 x 4 posts.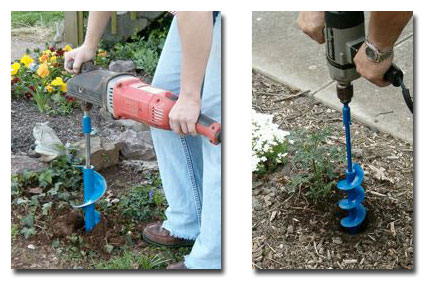 1st pic: Becky uses a Milwaukee Super Hawg with the 5.75'' tree planting auger
2nd pic: Tom uses a Porter Cable straight drill with the 3.25'' tree auger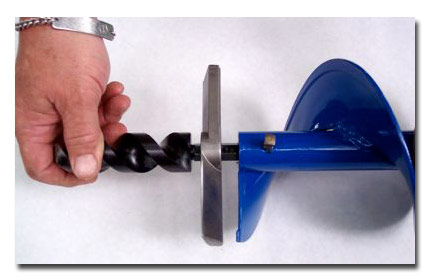 These earth augers feature completely replaceable nose tip and cutter blade